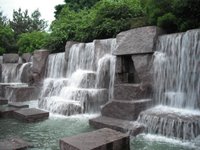 The FDR Monument in DC - TVA Celebrated
Breaking News: Cahaba River Featured in Smithsonian Magazine
http://www.smithsonianmag.com/science-nature/River-of-Riches.html
*********************************************
Breaking News: Alabama Wins Water War Lawsuit
http://governorpress.alabama.gov/pr/pr-2009-07-17-02-water_wars.asp
******************************************
Map: NRDC Map details number of jobs created by the American Clean Energy and Security Act
http://switchboard.nrdc.org/blogs/paltman/media/Job%20creation%20map1.pdf
********************************************
1. Attalla Tire Dump Cleanup Finished - Last week, the Alabama Department of Environmental Management and the city of Attalla announced that they had completed the cleanup of a dumpsite that contained 40,000 tons of scrap tire material and more than 4 million tires.
The Attalla tire cleanup was made possible by the passage of the Scrap Tire Environmental Quality Act in 2003. The project took nearly 3 years to complete at a cost less than the anticipated $3.7 million. More than 80% of the tires were recycled.
2. Jefferson and Tuscaloosa Counties Make Top 20 Airborne Cancer Risk List - According to a study released by the Environmental Protection Agency and reported in the Birmingham News, Tuscaloosa and Jefferson ranked 12th and 18th among 3223 counties for cancer from airborne pollutants.
The study, which was based on EPA's 2002 National Air Toxics Assessment gives an assessment of potential risks and possible problem spots associated with air toxics. The main cause of the high rankings according to local health officials are a number of coke ovens located within the two counties. In Tuscaloosa County, the one coke oven that helped put the county on EPA's top 20 list has since closed.
3. Two New Oyster Reefs to be Built in South Mobile County - According to the Mobile Register, as part of the federal economic stimulus program aimed at restoring the nation's coastlines, a plan to build two oyster reefs that would block waves and create fish habitat in South Mobile County has been granted $2.9 million by the National Oceanic Atmospheric Administration.
This ambitious project will be carried out by The Nature Conservancy (TNC) of Alabama in partnership with the Dauphin Island Sea Lab and the Alabama State Lands Division. TNC plans to build nearly a mile of underwater reefs in two locations: near Front Park in Mobile Bay and in Portersville Bay near Bayou La Batre. Along with its environmental importance, the goal of the project is to employ between 35-40 out of work oystermen and seafood workers in the area.
4. BEN Notes: Five Rivers Free Saturday Classes, Take Pride Statewide 2009 Conference, Green Building Focus Conference, Shoals Environmental Alliance To Meet About TVA, AWF Governor's Conservation Achievement Awards, 2009 Wild & Scenic Film Festival, Land Trust of Huntsville and North Alabama's Moon Over Three Caves Dance
Five Rivers Free Saturday Classes - The 5 Rivers Delta Resource Center has announced a Saturday environmental education series of free classes for students between grades 3-5. The first class on "Wind Energy" is scheduled for July 25th, 11:30 to 2:30. To register for the classes call Shonda or Kellie at 251-625-0814.
Take Pride Statewide 2009 Conference - The 2009 Take Pride Statewide Conference will be held on July 28-29 in Birmingham at Samford University. Ed BegleyJr., be the keynote speaker. For registration info visit http://www.auntielitter.org/takepridestatwide.html or call 205-879-3009.
Green Building Focus Conference - Birmingham will be hosting the Southeast Regional - Green Building Focus Conference & Expo on July 28-29 in Birmingham, Alabama. For details visit: http://greenbuildingfocus.com
Shoals Environmental Alliance To Meet About TVA - The Shoals Environmental Alliance will be hosting a public meeting to discuss the TVA Muscle Shoals Redevelopment. The meeting is scheduled for Tuesday, July 28th, 5:00pm at the Florence Library. For details call 256-366-1937.
AWF Governor's Conservation Achievement Awards - The Alabama Wildlife Federation will be holding the Annual Governor's Conservation Achievement Awards banquet on August 7th, 6:00pm at Marriott Legends at Capitol Hill in Prattville. To register, call 1-800-822-9453 or visit http:// www.alabamawildlife.org .
2009 Wild & Scenic Film Festival - Mark your calendars: the 2009 Wild & Scenic Environmental Film Festival will be coming to Birmingham - August 21st, 5-9pm at the Harbert Center. Call the Alabama Rivers Alliance for details - 205-322-6395 or visit http://www.alabamarivers.org
Land Trust of Huntsville and North Alabama's Moon Over Three Caves Dance - The Land Trust of Huntsville and North Alabama will be holding their annual "Moon Over Three Caves Dance" on September 19th, 7:00 to 11:00pm at Historic Three Caves in Huntsville, Alabama. For additional info call 256-534-5263 or visit http://www.landtrust-hsv.org