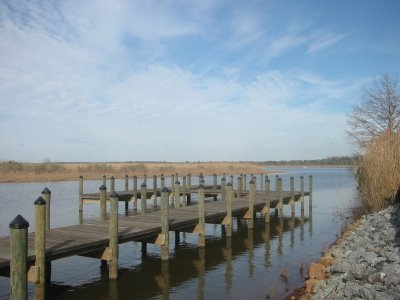 The pier at Five Rivers in Spanish Fort, Alabama
(links - cut & paste)
Take Pride Statewide Conference - August 12-13 at Samford University
Football great Bart Starr and First Lady Patsy Riley are teaming up with Auntie Litter, holding the first ever Take Pride Statewide Conference for litter prevention at Samford University in Birmingham on August 12-13. It has also been announced that Senator Jeff Sessions will also be addressing the event. Please  register today at http://www.TakePrideStatewide.org  or call 205-879-3009.
******************************
Project CATE
Now Available Skeeter's Wild Adventures, the second in the series of conservation curriculum by The Project CATE Foundation.  Skeeter's Wild Adventures includes conservation information about mammals, fishes, birds, reptiles and amphibians in the Southeast.  Produced and programmed by Educational Concepts, Skeeter's is an interactive CD Rom suitable for all ages and all grades.  The Project CATE Foundation and Educational Concepts spent eight years in production following the release of Ribbet's Big Splash in 2000.  You can order either CD online, free of charge to teachers, at http://www.projectcate.com or contact the Project CATE Foundation, Inc., c/o Neil Johnston, P.O. Box 123, Mobile, Alabama, 36601, or email njohnston@handarendall.com
************************************
1. Alabama Health Department Issues Fish Consumption Advisories - According to an Alabama Department of Public Health press release last week, the agency added new fish consumption advisories for  12 bodies of water in Alabama.  The Health Department annually updates fish consumption advisories based on data collected the preceding fall by the Alabama Department of Environmental Management.
Beginning with the 2007 advisories, the Department of Health adopted a contaminant level for mercury in fish that would protect those who might consider eating more than one fish meal per week.  This new standard which was produced by the US Environmental Protection Agency is 4 times more protective than the previous standard.  
The areas where the new advisories have been issued are: Choccolocco Creek - Calhoun County, Choccolocco Creek - Talladega County, Choctawhatchee River - Geneva County, Frank Jackson Lake - Covington County, Lake Jackson - Covington County, Lewis Smith Reservoir - Cullman County, Lewis Smith Reservoir - Winston County, North River - Tuscaloosa County, Pea River - Geneva County, Sepulga River - Escambia County, Lake Tuscaloosa County
Please visit http://www.adph.org  (here is the pdf file - http://www.adph.org/news/Default.asp?id=514 ) to receive detailed information about new and previous advisories (there are 32 additional bodies of water listed) that are still in place, the specific locations of the advisories and the recommended consumption level.
2. Tuscaloosa County to Preserve 250 Acres of Hurricane Creek - In cooperation with the Tuscaloosa County Park and Recreation Authority (PARA), the Tuscaloosa County Commission voted this week to purchase 250 acres along Hurricane Creek, including an environmentally sensitive section known as the M Bend (near Alabama Hwy 216 Bridge over Hurricane Creek). The land will be used as a public park. 
The property is being bought from the Trust for Public Land, a national, nonprofit land conservation group based in Tennessee.  The organization recently purchased  the land from a Tuscaloosa family.  According to the Tuscaloosa News, the goal behind the land purchase is to preserve and protect the land and the creek.  The land has been a popular site for canoeing and swimming and is know for its rare wildlife and rock formations. 
"This is probably the biggest thing that has ever happened environmentally in this county," stated John Wathen, director of Friends of Hurricane Creek in the News.
3. Cooper Family Preserves Land Near Little River Canyon National Preserve - Earlier this month the Land Trust of Huntsville and North Alabama announced that they have received a donation of 23 acres of land  near Little River Canyon National Preserve, by the family of the late Jerome  "Buddy" Cooper.
The land, which is on the east bend of the Little River West Fork between Mentone and above Desoto Falls State Park in DeKalb County, was owned by Buddy Cooper, a prominent Alabama lawyer who served Supreme Court Justice Hugo Black, represented labor unions in the turbulent 1950's-60's, and was an environmental pioneer leading the Ruffner Mountain Nature Center and campaigning for the Sipsey Wilderness.  There is a wonderful story about Cooper's life and love of the land on the Land Trust's website at http://www.landtrust-hsv.org/CooperMentone.htm
4. NOAA Plans To Invest $1 Million Restoring Alabama's Shorelines - Last month, the National Oceanic and Atmospheric Administration (NOAA) announced plans to invest $1 million over three years to help restore Alabama's Mobile Bay, partnering with local organizations and citizens to reverse the loss of wetlands caused by coastal development.
As part of the innovative restoration practice, "Living Shorelines," projects are already planned for Luscher Park on Dog River in Mobile County and an Alabama Oyster Reef and Fisheries Habitat Enhancement Program. Some of the local partners in this effort include the University of South Alabama, the Mobile Bay National Estuary Program and various local community organizations.
Through NOAA's Restoration Center, more than $7 million has been invested in the state of Alabama since 1999.  Altogether these projects have restored numerous salt marshes and seagrass, created oyster reefs, and educated coastal communities about the value of habitat and restoration.  Overall the program has engaged more than 1,100 volunteers and resulted in the restoration of approximately 90 acres of coastal habitat.
5. Birmingham's Citywide Cleanup Nets 200 Million Pounds Of Rubbish -  Here are some stunning numbers out of Birmingham on the amount of rubbish the city has hauled away from it's 23 in 23 citywide cleanup program.  According to a Birmingham News report, the city this year in the first 6 months, has disposed of 100,142 (200 million pounds) of rubbish, cut and cleared 2311 lots, cleaned 607 ditches and towed away 835 cars.
"We've cleaned things in the last six months that in some cases haven't been cleaned in 20 or 30 years," said Don Lupo of the Mayor's Office of Citizens Assistance. 
The 23 in 23 program was of the first projects instituted by Birmingham Mayor Larry Langford when he entered into office late last year.
6.  Alabama's Scenic River Trail Designated National Recreational Trail - The new 631 mile Alabama Scenic River Trail - a boating trail that stretches from the Coosa River in Northeast Alabama to Fort Morgan, has been designated a National Recreational Trail by the Department of Interior.  The river trail, which is billed as the nation's longest in one state is one of over a 1000 trails that have received the designation.
To learn how to trek the length of the Alabama Scenic River Trail, visit their website at http://www.alabamascenicrivertrail.com
7. BEN Notes: Alabama Rivers Alliance Save & Share, Alabama Coastal Cleanup, Moon Over Three Caves Dance in Huntsville, Friends of Locust Fork's River Revival Outdoor Festival, John L. Borom Alabama Coastal Birdfest, My Energy Potential Website
Alabama Rivers Alliance Save & Share - Join the Alabama Rivers Alliance (ARA) and participating organizations in their Summer Save & Share Campaign.  All you have to do to participate is to implement some of the water-saving tips that can be found on the ARA website at http://www.alabamarivers.org, watch your water bills to see how much water and money you save, then donate the savings to the ARA or one of the participating groups.  As a special incentive, Good People Brewing Company, a new brewery that has opened  in downtown Birmingham, has agreed to match any Save and Share donations.
Alabama Coastal Cleanup - The Alabama Coastal Cleanup will be held this year on September 20 - 8 a.m. to Noon.  Contact Amy King at 251-928-9792 or amy.king@dcnr.alabama.gov for details.
Moon Over Three Caves Dance in Huntsville - Save the Date!  The Land Trust of Huntsville and North Alabama will be holding their annual Moon Over Three Caves Dance - September 20, 7:30-11:00 pm at Historic Three Caves.  Please make reservations by calling 256-534-5263 or visit http://www.landtrust-hsv.org/moon_dance.htm  for details.
Friends of Locust Fork's River Revival Outdoor Festival - Save the Date! The Friends Locust Fork will be hosting their 3rd annual River Revival Outdoor Music Festival, Sunday, September 21, 1:00 to 6:00pm at King's Bend on the Locust Fork River in Cleveland, Alabama.
John L. Borom Alabama Coastal Birdfest - Marl your calendars for the 5th Annual Alabama Coastal Birdfest to be held on October 16-18.  Check it out at  http://www.alabamacoastalbirdfest.com
My Energy Potential Website - BEN reader Tabetha Reyes has developed a fantastic website about green buildings and saving energy.  Check it out at  http://www.myenergypotential.com