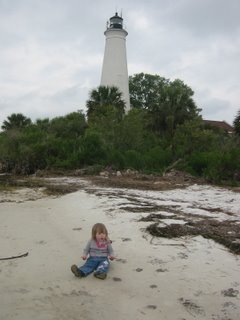 Whitney Byington (age 2) in front of the St. Mark NWR Lighthouse
New Study: National Wildlife Refuges Boost Local Economies - A recent report released by the U.S. Fish and Wildlife Service  titled  Banking on Nature 2006: The Economic Benefits to Local Communities of National Wildlife Refuge Visitation  documents economic benefits National Wildlife Refuges (NWR) provide in local communities. Nationally, according to the study, nearly 35 million people visited National Wildlife Refuges in 2006, supporting almost 27,000 private sector jobs, producing $543 million in employment income and $185.3 million in local, county, state federal tax revenue.
In Alabama, the report profiled the Wheeler National Wildlife Refuge located along the Tennessee River between Huntsville and Decatur.  The 34,500 acre Wheeler NWR is considered the easternmost Refuge in the Mississippi flyway and attracts thousands of wintering waterfowl each year, including the State's largest duck population.  The  refuge is also home to 115 species of fish, 74 species of reptiles and amphibians, 47 species of mammals, and 285 species of songbirds.
According to the report, the Wheeler NWR provided the following economic benefits in 2006:
Total Visits - 590,743
Visitor Recreation Expenditures - $12 million
Fishing-related Expenditures - $5.9 million
Non-consumptive related Expenditures - $4.7 million
Total Number of Jobs - 202
Total Tax Revenue - $2.2 million
Along with Wheeler, the state of Alabama also benefits from 10 other National Wildlife Refuges.  Check out each refuge at http://www.fws.gov/refuges/refugeLocatorMaps/Alabama.html