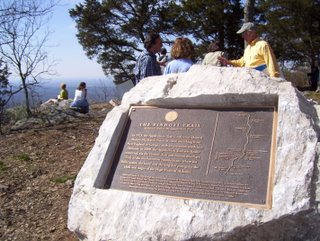 Quotes from the Pinhoti Appalachian Trail Connection Dedication - March 16, 2008
Connecting Alabama's Pinhoti Trail to the world-famous Appalachian Trail is great news for the many outdoor enthusiasts who have been waiting for the entire Appalachian range to be joined together. Hikers from all corners of the world will now have the opportunity to experience the majestic Alabama wilderness as they challenge themselves on the Appalachian Trail.  I believe that we must protect and preserve our natural resources for future generations to enjoy and I am proud to have played a part in ensuring that the Appalachian Trail connects to our great state."
Today, of course, is Palm Sunday and on this day, maybe a more spiritual, meaningful and human connection is here, one at a time, connecting each of us to our natural history, heritage, this clean air, healthy lifestyle and unparalleled beauty. In fact, on this Sunday, this ridge may serve as the most beautiful church, so appropriate for prayer, contemplation, and deep thanks for all that we have. 
Director, Jacksonville State University
Environmental Policy Information Center