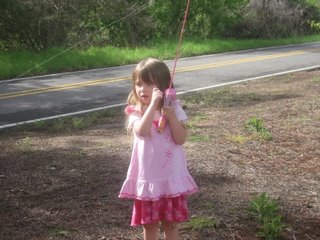 My latest Earth Day Commentary.  It appeared in the Birmingham News on April 20, 2008.
*****************************
My four-year-old daughter is a princess.
No really, she wears crowns and tiaras most of the day, flowing dresses and silver sparkling shoes. One of her most prized possessions is a Canadian coin with Queen Elizabeth on it.
A few weeks ago, my princess had a transformative experience.
She and I went out to see the Dick's Sporting Goods Outdoor Adventure Road Tour, where there was a paddle/canoe demonstration and a huge fish tank, with professional fishermen showing folks how to fish.
It was the fish that got her, literally "hooked."
She was mesmerized by the fishermen and the fish, and afterwards my little princess was begging me to buy her a "Barbie" fishing pole.
Since then, her favorite activity is walking around as a princess, tiara included, and casting her fishing pole line – pretend fishing on the banks of local creeks. She absolutely loves being outside, albeit on her own unique, royal terms.
I'm sharing this story because every year, right before Earth Day, environmental reporters ask the following question:
What should people do for Earth Day and the environment?
Now more than ever the answer is:
Start spending time outdoors with our children.
A recent 15-year analysis by the U.S. Fish and Wildlife Service recognized a disturbing generational trend.
It showed future participatory declines of 16 percent among anglers, 11 percent among hunters, and 23 percent among those who watch wildlife.
A new study published in a National Academy of Sciences publication found that even though national parks remain popular, adjusting for population increases, park attendance is 70 million short of the 1987 peak.
Electronic media, TV, and video games are replacing "playtime outdoors" for our children, according to a 2005 Kaiser Family Foundation report. On average, the study found that U.S. children between the ages of 8 and 18 spend 45 hours a week exposed to electronic media, an amount of time most parents spend on their full-time jobs.
The problem, coined as "nature deficit disorder" by author Richard Louv, is so serious that the National Wildlife Federation recently made outdoor nature education its top priority alongside global climate change.
And why is this important for the environment and our communities?
Because we are at risk of losing a generation. These children could end up disconnected to nature while being connected more and more to their sofas.
How will we ever be able to explain the need for clean water and air or the protection and preservation of natural areas, forests and wildlife when the closest a child gets to a river or forest is peering out a car window?
For our communities, the benefits of experiencing the outdoors with our children are immeasurable. Study after study proves the importance of outdoor nature education
A recent California Department of Education study showed that sixth graders improved their science scores by 27 percent after taking week-long outdoor education classes.
Outdoor play is linked to lower rates of obesity and depression. A University of Illinois study even found that spending time in "green areas" reduced symptoms of attention deficit disorder.
In the Birmingham area, it has been very encouraging to see our community coalesce around the creation of Red Mountain Park and the expansion of Ruffner Mountain.
Community gardens and ecoscapes are blooming like wildflowers around our neighborhoods, thanks to groups like the Southern Environmental Center and Jones Valley Urban Farm.
And local nature preserves and greenways have been developed in about a half dozen local communities, from Hoover to Brookside.
These are all hopeful signs that at least Birmingham "gets it" and is ready to truly tackle nature deficit disorder.
As the famous environmental writer Rachel Carson put it in her first book, 
The Sense of Wonder,
 "If a child is to keep alive his inborn sense of wonder…. he needs the companionship of at least one adult who can share it, rediscovering with him the joy, excitement and mystery of the world we live in."
Back to my daughter, the princess.
She will be celebrating Earth Day this weekend with a "bug hunt" in one of our neighborhood parks.
Her friends, or should I say royal court, will be joining us.
And yes, she will be bringing her Barbie fishing pole.