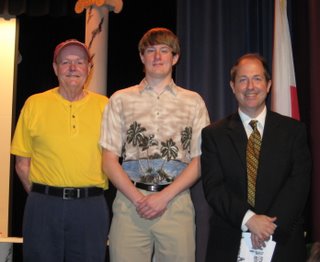 Yesterday, I awarded Sheffield High Senior John Carr the 7th Annual
Byington Environmental Public Service Scholarship
(
the picture above Left to Right - * Pete Carr (John's proud father), John Carr and Pat Byington
)
.  Please consider making a donation to the scholarship in lieu of a subscription to the Bama Environmental News.
Here is a description of the scholarship and where you can send a donation.
Sheffield High School "Environmental Public Service Scholarship"
Sheffield Education Foundation
c/o Dr. Richard Gardner, Ed. D.
300 West Sixth Street
Sheffield, Alabama 35660
256-383-0400
http://www.scs.k12.al.us/shs.htm
The Sheffield High School "Environmental Public Service Scholarship" was created in November 2001 to support graduating students from the high school Bama Environmental News publisher Pat Byington attended. From 2001 to 2006 , Mr. Byington donated his commissioner's salary from his service on the Alabama Environmental Management Commission to the scholarship fund. Additional monies raised will help continue the scholarship program beyond Mr. Byington's service on the Commission, which ended September 30, 2006.
The scholarship honors a student who has shown an interest in the protection and enhancement of Alabama's environment and natural heritage. 
Please make checks payable to the Sheffield Education Foundation (note the scholarship on the check).
**************************
* Here is a neat bit of info about John's dad, Pete Carr.  Check out his website at www.playthatguitar.com   -  From the website :  
Pete Carr, recognized as one of the most versatile studio guitarists of the past three decades, has contributed to hit recordings by Bob Seger, Simon and Garfunkel, Rod Stewart, Hank Williams, Jr., Barbra Streisand, Luther Ingram, Willie Nelson and many other artists. Carr is known for versatility, using the electric or acoustic guitar, playing with taste and his ability to create standout guitar lines on hit songs. 
******************
Also, met the Carr family on Friday including John's mom Debra Carr and Sue Lansdell, his grandmother.  
Wonderful folks!  
Please consider making a contribution to this very worthwhile cause.