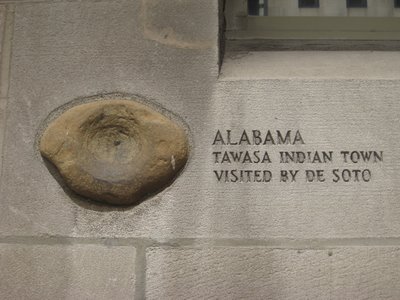 The '"Alabama" piece embedded on the side of the Chicago Tribune Building
(Cut & Paste links)

1. Alabama Ranks 3rd Nationally for Imperiled Fish - From the Birmingham News, Alabama has been ranked third nationally for imperiled fish species according to the first continent-wide study of fishes in 19 years. The report, which was published in the most recent edition of  Fisheries Magazine, was prepared by the American Fisheries Society's Endangered Species Committee.  
Here are some of the reports findings:
* In Alabama, the Tennessee River basin is first  on the continent in the number of imperiled species of fish with 58.  The Mobile River basin is second with 57.
* The southeastern United States leads in imperiled fish, with species declining faster than in the rest of North America.
* Approximately 39% of described fish species of the continent are imperiled with 230 categorized as vulnerable, 190 threatened, and 280 endangered.
* Nationally, endangered fish have increased from 103 to 280 species since the first study in 1989.  And the number of subspecies in trouble have tripled in 19 years.
* Of the species of fish that were considered imperiled in 1989, 89% are in the same or worse in conservation status; only 6% have improved in status.
The main cause for the number of imperiled fish species in Alabama and the Southeast was the construction of dams decades ago, which altered and damaged aquatic habitat.  Declining water quality attributed to silt and increased land disturbances in the rapidly growing South are also a primary cause for the high number of imperiled fish.
Check out the entire Birmingham News story written by environment reporter Katherine Bouma at:
http://www.al.com/news/birminghamnews/index.ssf?/base/news/1221552935282610.xml&coll=2
2. Coastal Partnership to Provide $1.5 Million for Habitat Restoration - In August, the Alabama Department of Conservation State Lands Division and Dauphin Island Sea Lab announced a historic research and conservation partnership to construct shoreline restoration projects at two sites: the northeast shoreline of Point aux Pins and the undeveloped shoreline on the southwest side of the Boggy Point boat ramp site in Orange Beach.  Both projects will utilize oyster shell breakwaters to protect eroding shorelines and promote the re-establishment of marsh plants and seagrasses.
Additionally, a seagrass restoration project in Little Lagoon, adjacent to the Bon Secour National Wildlife Refuge will be significantly expanded.  
These projects have been made possible by a post-Hurricane Katrina fisheries restoration grant from the National Oceanic and Atmospheric Administration.  For more information about Dauphin Island Sea Lab's efforts, visit http://www.disl.org  .
3. Men's Health Magazine Greenest Drivers Grades - Montgomery D+  Bham.  F  -  Who has the "Greenest Drivers" in the U.S.?  According to a Men's Health Magazine study the title goes to Seattle, Washington.  Unfortunately, Alabama did not fare to well in the study with Montgomery receiving a D+ and a 79th ranking out of 100 U.S. Metro cities.  Birmingham actually ranked lower, scoring a "F"  and ranking 96th out 100.
As the magazine put it - "To identify which cities are driving us to extinction, we tabulated data on gasoline consumption, miles racked up annually, air quality (ozone and particle pollutants), vehicle efficiency (that is their size, age, and frequency of tune-ups) and mass transit quality and usage." The magazine compiled studies from the American Lung Association, National Transit Database, Energy Information Administration and the Texas Transportation Institute at Texas A&M to come up with its ranking.
You can access the study at the following link:  http://www.menshealth.com/metrogrades/08_july_cars/cars.html
4. Alabama Ranks 7th Worst Nationally For Littering According to a Recent Study - According to a study produced by Texas State University researcher Steve Spacek, Alabama ranks 7th worst nationally in addressing litter.  Using eight objective factors and four subjective factors, Alabama rated low because it does not have a litter tax, a beverage container law and for the percentage of litter/debris related fatal wrecks caused by highway debris such as blown tires, treads and vehicle parts.  Here is a links to the study titled the American State Litter Scorecard.
http://www.dot.state.mn.us/adopt/files/AmericanStateLitterScorecard.pdf
This past year, the Alabama Legislature has convened a new anti-litter commission, which is scheduled to report to the Legislature  by November 1, 2010.
5. BEN Notes: Birmingham Audubon's Mini-Grant Program, Mark Berte: Alabama's 1901 Constitution, "Moon Over Three Caves" in Huntsville, Alabama Coastal Cleanup, ARA's River Revival, Cahaba by Moonlight, Gateway to Greenspace, The Southern Environmental Center's EcoFest, JSU Canyon Center Sneak Peak Tour, John L. Borom Alabama Coastal Birdfest
Birmingham Audubon's Mini-Grant Program - The Birmingham Audubon Society is offering $300 mini-grants to support conservation and environmental education in Jefferson and Shelby counties.  Learn how to apply for the grants by visiting their website at http://www.birminghamaudubon.org  The deadline for applications is September 27th.
Mark Berte: Alabama's 1901 Constitution - Check out tonight (Sept 18th) Alabama Constitution Reform leader Mark Berte, at the Birmingham Audubon Society's monthly meeting. The topic of the 7:00 presentation at the Birmingham Zoo is "Alabama's Constitution: It's a Thick Book and a Big Impact on the Environment"
"Moon Over Three Caves" in Huntsville - Join the Land Trust of Huntsville and North Alabama, this Saturday, September 20, 7:30-11:00 pm. at the Historic Three Caves in Huntsville for the Moon Over Three Caves Dance  The environmental event of the year in Huntsville!  Reserve your tickets today by calling 256-534-LAND  (5263).
Alabama Coastal Cleanup - The Alabama Coastal Cleanup will be held this year on September 20 - 8 a.m. to Noon.  Contact Amy King at 251-928-9792 or amy.king@dcnr.alabama.gov for details.
ARA's/Locust Fork's River Revival - Friends of Locust Fork and the Alabama Rivers Alliance's  will be hosting their 3rd annual River Revival Outdoor Music Festival, Sunday, September 21, 1:00 to 6:00pm at King's Bend on the Locust Fork River in Cleveland, Alabama. Visit http://www.alabamarivers.org  for additional details.
Cahaba by Moonlight - Don't miss Cahaba by Moonlight  on  September 25th  at the Historic Carraway - Davie House and Conference Center.  A wonderful event, proceeds benefit the efforts of the Cahaba River Society.  For more information, visit http://www.cahabariversociety.org or call 322-5326.
Gateway to Greenspace - The Regional Planning Commission of Greater Birmingham will be holding the 2008 Building Communities Conference - Gateway to Greenspace: Connecting Citizens, Governments, & Businesses  on October 2nd, 8:00 am to 3:00 pm at the McWane Science Center in Birmingham.  For details call Tom Maxwell at 205-264-8445 /tmaxwell@rpcgb.org  or visit http://www.rpcgb.org
The Southern Environmental Center's EcoFest - The Southern Environmental Center at Birmingham Southern College will be holding their 10th Annual Ecofest event benefiting the Center on October 9th at Workplay in Birmingham.  For additional details and ticket information call 205-226-4934.
JSU Canyon Center Sneak Peak Tour - The JSU Canyon Center will be holding a Sneak Peak tour on the afternoon of Sunday, October 19th.  Call the JSU Environmental Policy and Information Center for details at 256-782-5681 and check out the center at http://epic.jsu.edu/lrc/center.html
John L. Borom Alabama Coastal Birdfest - Mark your calendars for the 5th Annual Alabama Coastal Birdfest to be held on October 16-18.  Check it out at  http://www.alabamacoastalbirdfest.com