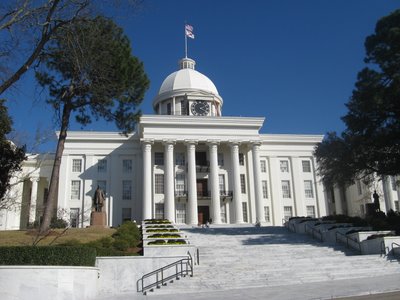 Alabama Capitol in Montgomery, Alabama

1. Green Report Card 2009 Grades Auburn, Alabama, Samford, UAB and USA - Earlier this year, the 2009 Green Report Card was released to the public. The report's interactive website provides in-depth sustainability profiles for hundreds of colleges in all 50 U.S. states and in Canada based on extensive research conducted for the College Sustainability Report Card.  Published by the Sustainable Endowments Institute, a special project of Rockefeller Philanthropy Advisors, The Report Card is the only independent sustainability evaluation of campus operations and endowment investments.  
Five Alabama universities were examined and given grades in the following categories - Administration, Climate Change & Energy, Food & Recycling, Green Building, Student Involvement, Transportation, Endowment Transparency, Investment Priorities and Shareholder Engagement 
According to the report, Auburn University received the highest state of Alabama grade in the 2009 Report scoring a B-, an improvement over the previous report card the year before.  They especially scored well in the Investment Priorities - (A), Administration - (B),  and Student Involvement - (B) categories.  The other four universities did not fare as well.  Below are their 2009 grades.
University of Alabama in Tuscaloosa - C  (a higher grade than last year)
Samford University - D+  (higher grade than last year)
University of Alabama Birmingham - D
University of South Alabama - D-
To read the entire report, including detailed descriptions and grades for each category, visit http://www.greenreportcard.org
2. E-Waste Recycling Taking Off in Alabama - One of Alabama's fasting growing and emerging environmental businesses is the recycling and recovery of electronic equipment. One such business in Alabama is named Technical Knockout.  The numbers are pretty astonishing.  In 2008, Technical Knockout recycled 142 tons of metal and plastic in Birmingham alone.  They also recycled 11 tractor trailer loads (each truck weighs 35-40,000 pounds) of circuit boards and computer parts. 
Electronic waste accounts for more than 40% of the lead and 70% of metals found within landfills and is considered the fastest component of the municipal waste stream worldwide. An example of this growing problem, the National Security Council estimated in 2007 that 500 million PCs in the U.S. were considered obsolete in favor of faster and better processing power.  
Please check out, two Alabama businesses that work to address this problem - Technical Knockout http://www.technicalko.net or 205-585-7835  and Alabama Electronics Recyclers http://www.alabamaelectronicsrecyclers.com
3. Environmental Bills Introduced In Alabama Legislature's First Week - Several energy and environmental justice bills were introduced during the opening week of the Alabama legislative session.  Below are brief descriptions:
House Bill  (HB) 13 - Sponsored by Rep. Mitchell - Toxic Waste, ADEM required to identify high impact areas for toxic contamination by counties; State Health officer required to document disease occurrence by county.
HB - 185 - Green Fleet Legislation, requires state agencies to submit annual projected plans to reach efficiency requirements and encourage carpooling
HB 188 - Sponsored by Wren - Energy efficient equipment tax credit for residential or business application - Energy Efficiency Act
HB 193 - Sales Tax Holiday for Energy Star Products
HB 194/SB 260  - Establishes the Alabama Public Interest Energy Research and Development Grants Program to provide funding for energy related public interest energy research and development.  Enhance Alabama's portfolio of energy resources.
SB 72 - Sponsored by Sen. Wendell Mitchell - Solid waste management plan, county or municipal approval, affirmative approval required for new facility or for changes related to landfill or solid waste management site.
4. State Agriculture Census - Number of Farms Increase - According to the 2007 Census of Agriculture, the number of farms in the state of Alabama increased 8% since the last census was taken in 2002.  The total number of farms in 2007 was 48,753, compared to 45,126 in 2002.
Other news from the 2007 Census - the amount of land used for farming increased from 8.9 million acres in 2002 to 9 million acres in 2007, but the average size  of the farm decreased from 197 acres to 185 acres.
5. BEN Notes:  Greater Birmingham Community Food Partners Position Open, Alabama 25 X '25 State Alliance, Wild About Chocolate,  Alabama Hiking Trail Society Conference, ARA Watershed Leadership Conference, EEAA Conference, Southeast Land Trust Alliance Conference, Teachers Conservation Workshops
Greater Birmingham Community Food Partners Position Open - Greater Birmingham Community Food Partners is seeking a part-time project coordinator.  Please visit http://www.gbcfp.org for details.
Alabama 25 X '25 State Alliance - Alabama 25 X '25 is a new coalition that will advocate for a long term sustainable energy vision.  Dennis Bragg will be serving as Chair of the 25 X '25 State Alliance.  For more info, contact Brent Bailey, the regional facilitator at 601-573-4815 or email bbailey@25x25.org or visit http://www.25x25.org
February 9 and 10 – Baldwin County Water Festival – 8am until 3pm in Daphne – In partnership with Weeks Bay National Estuarine Research Reserve, this event for fourth graders involves hands-on activities teaching watershed function and protection. The festival serves 1,1oo students over two days. Volunteers are needed to lead activities and guide students to designated areas as assigned.  Call 251-990-6002 for details.
Wild About Chocolate - The Alabama Wildlife Center will be holding their 5th Annual Wild About Chocolate Valentine Gala on February 14th, 7:00 PM at Workplay in Birmingham, Alabama.  All proceeds from this wonderful event benefit the Center and the thousands of animals they save and rehabilitate over the year.  Tickets in advance are $75 and can ordered at 205-663-7930.  For additional details visit http://www.awrc.org 
Alabama Hiking Trail Society Conference - The Alabama Hiking Trail Society will be holding their 7th Annual Conference, March 6th and 7th at the 5 Rivers Delta Resource Center in Spanish Fort, Alabama.  For complete details about this event, visit http://www.hikealabama.org/conference.html .
ARA Watershed Leadership Conference - The Alabama Rivers Alliance will be holding their 11th Annual Watershed Leadership Conference on March 20-22 at beautiful Camp McDowell.  Visit http://www.alabamarivers.org for details.
EEAA Conference - The Environmental Education Association of Alabama will be holding their Annual Conference - titled "Woods and Water: Connections in Nature" from March 19 to March 21 at the Alabama 4-H Center in Columbiana, Alabama.  For information about the event, visit http://www.eeaa.us   or call 256-426-5871.
Southeast Land Trust Alliance Conference - The 2009 Southeast Land Trust Conference is coming to Alabama on March 25-26 at Auburn University's Dixon Conference in Auburn, Alabama.  Check out  the conference schedule and details at http://www.lta.org  (visit "events" on the webpage)
Teachers Conservation Workshops - The Alabama Forestry Foundation will be holding Teachers Conservation Workshops on June 23-25 in Tuscaloosa and July 13-16 in Auburn.  Please visit the foundation's website at http://www.alaforestry.org to review a detailed agenda or contact Chris Erwin at 334-481-2133/email cerwin@alaforestry.org