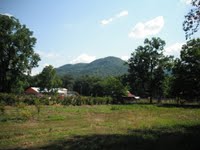 News
Good news for Land Conservation in Alabama. Last week, Congress passed the Interior Appropriations bill appropriating $2 million from the Land and Water Conservation Fund (LWCF) to expand the Little River Canyon National Preserve and Bon Secour National Wildlife Refuge. An additional $640,000 was appropriated for the Cumberland Mountains Forest Legacy project in Jackson County. http://www.bamanews.com/2009/11/alabama-scores-lwcf-victory.html
Forever Wild saves more than 61,000 acres in Metro Birmingham's "Backyard." Last week, Forever Wild announced that they had closed a deal to protect more than 61,000 acres of Wildlife Management Area (WMA) Lands in Bibb, Tuscaloosa, Walker and Shelby counties for the next 93 years. The agreement will preserve the public hunting, fishing, hiking and recreational rights within an hour's drive of nearly a quarter of Alabama's population. Details about this monumental conservation agreement can be found at: Bham News -
http://blog.al.com/birmingham-news-stories/2009/10/post_43.html
Mike Bolton's Column -
http://blog.al.com/outdoors-alabama/2009/11/bolton_forever_wild_deal_guara.html
Ducks Unlimited - Fundraising and Protecting Land. In the next few weeks, Ducks Unlimited will be holding fundraising events/banquets across Alabama. These efforts have resulted in the protection of 18,726 acres of waterfowl habitat statewide. The events starts this Tuesday. Check out the event in neighborhood at
http://www.ducks.org/states/31//index.html
Energy Efficient Buildings Save Money. Here is a great story from the "Auburn Sustainability" website about the Gorrie Center, a new LEED Gold Certified building on campus. According to the story, the Gorrie Center uses 59.8% of the average amount of electricity when compared to nine similar-use building on the Auburn University campus. The building can also save more than $400,000 in electricity costs a year. For more details:
http://www.auburn.edu/projects/sustainability/website/newsletter/043009.html#anchor_11
ADEM & ALDOT Team Up. The Alabama Department of Environmental Management and the Alabama Department of Transportation have been awarded a grant to retrofit approximately 184 diesel vehicles to reduce particulate pollution. To learn more:
http://www.adem.state.al.us/PressReleases/2009/DieselRetrofits.pdf
More than 5000 houses will be weatherized in Alabama over the next 2 years saving money and energy. Check out how some Alabama Power Service Organization volunteers are helping out in Montgomery -
http://www.montgomeryadvertiser.com/article/20091031/NEWS01/910310326/Grants-help-ensure-warm-winter-for-area-residents
BEN Notes:
Grants
Birmingham Audubon Mini-Grants - The deadline for the Birmingham Audubon Society's Mini-Grant program is fast approaching. Visit
http://www.birminghamaudubon.org/grantscholar/minigrantprog
for details
Events
Nabeel's Cafe in Homewood (1706 Oxmoor Rd.) is donating 10% of their sales to the Cahaba River Society on November 4th. Make sure to mention your support of CRS when you checkout.
Moss Rock Festival - November 7th & 8th, Hoover, Alabama -
http://www.mossrockfestival.com/
Land Trust of Huntsville and North Alabama - 09 Autumn Ramble Guided Hike Schedule-
http://landtrust-hsv.org/?p=40
Lecture Series - "Dauphin Island, Alabama: America's Birdiest City and Dauphin Island Bird Sanctuaries" - November 10th, 7:00, 5 Rivers Delta Resource Center
Cahaba River Huckraiser - an Ultimate Frisbee Hat Tournament - November 14th, 9:00 AM to 6:30 PM, at George Ward Park in Birmingham - Details call 32-CLEAN
6th Annual Alabama Renewable Energy Conference, November 17-18 at Auburn University -
http://www.nrmdi.auburn.edu/bio/ADECA/conference/2009/
ARTSCAPE an Event will benefit the Freshwater Land Trust - November 19, 6:30-9:00pm - Details: call the Land Trust at 205-226-7900.
Technical Knockout will be holding an e-cycle event on November 21st, 9am to 4pm at Whole Foods in Birmingham.