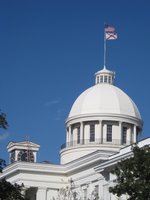 1) TVA Coal Ash Coming to Perry County Landfill
2) Forever Wild Moving Forward on Locust Fork, Red Hills and Tannehill Projects
3) Chief Ladiga Trail Named to the Rail to Trails Hall of Fame
4) Pew Report:  Green Jobs Gaining in Alabama 
5) BEN Notes: Birmingham Audubon Seeking Education Director, Nature Conservancy Seeking Development Director, Tuesdays on the Trail in Huntsville, Green Building Focus Conference, Coastal Kids Quiz Making a Difference, Legacy Teacher Workshops
************************************
Check out the June edition of National Geographic Magazine which  profiles Tennessee/Alabama/Georgia Caves.  The photography is stunning.
http://ngm.nationalgeographic.com/2009/06/tag-caves/jenkins-text
*************************************
Tennessee's Governor Bredesen Banking on Solar Energy
http://www.tennessean.com/article/20090614/COLUMNIST0101/906140365/1097/COLUMNIST
************************************
1. TVA Coal Ash Coming to Perry County Landfill - According to the Associated Press, the Tennessee Valley Authority (TVA) plans to dispose of millions of tons of coal ash from a massive spill in Tennessee into a landfill in Perry County.  The waste comes from the December 22nd Kingston, Tennessee Coal Ash spill/disaster where 5.4 million cubic yards of ash and sludge breached an earthen dike surrounding a water-covered mountain of ash at the Kingston plant.  The spill covered 300 acres with cleanup costs estimated at nearly $1 billion.
The Alabama Department of Environmental Management said it received notice from TVA last week that 3 million cubic yards of coal ash from Kingston,  will be shipped to the landfill by train 300 miles away into Alabama.  Based on a TVA test of the coal ash waste shipments conducted in Georgia, Jeff Cown, a manager with the Georgia Environmental Protection Division stated to the AP that the overall shipments of the waste would weigh about 3.9 million tons (place it into context - Alabamians dispose approximately 4.6 million ton of solid waste a year) and require 35,000 railroads to transport.  
In the article, the environmental community expressed concerns about the amount of waste being disposed of in Perry County, the levels of hazardous waste embedded in the coal ash waste, and it negative impact on the local community. 
2. Forever Wild Moving Forward on Locust Fork, Red Hills and Tannehill Projects - Last week, according to the Birmingham News, the Forever Wild  Board of Trustees moved one step closer in their pursuit to preserve and protect a number of ecologically and recreationally important areas throughout Alabama, by authorizing several land appraisals.
The largest project the Board authorized was an appraisal on the Birmingham Water Works Board  3200 acre tract along the Locust Fork River.  The Board also directed the Forever Wild staff to seek appraisals in the Red Hills area of Monroe County, lands adjacent to Tannehill State Historical Park and Oak Mountain State Park, and a 712 acre addition to Forever Wild's Walls of Jericho property in Jackson County.  
After the appraisals are made, the board will consider whether to proceed with a second appraisal and negotiate an offer. Forever Wild cannot pay in excess of the appraised value of the property. 
3.  Chief Ladiga Trail Named to the Rail to Trails Hall of Fame - This month, the Rails to Trails Conservancy named Alabama's Chief Ladiga Trail and Georgia's Silver Comet Trail to the Rails-Trail Hall of Fame.  
The two recreational trails, which were joined at the state line last year, create a 95 mile long corridor, making it one of the longest paved rail-trail stretches in the country. The Alabama's 33 mile Chief Ladiga Trail connects several communities including  along its route, including Anniston, Jacksonville, Piedmont and Weaver.  
Check out an in-depth profile of the two trails at: http://railstotrails.org/newsandpubs/trailofthemonth/index.html
4. Pew Report:  Green Jobs Gaining in Alabama  - According to a new report by the Pew Charitable Trusts, the state of Alabama created 7849 clean energy jobs in 2007 and said the sector grew 2.2 % from 1998 to 2007 outpacing overall job growth of 1.6%.
Nationally, Pew found that jobs in the clean energy economy grew at a national rate of 9.1% while traditional job growth grew only at 3.7% between 1998-2007.  To view the Alabama factsheet from this report visit : http://www.pewcenteronthestates.org/uploadedFiles/wwwpewcenteronthestatesorg/Fact_Sheets/Clean_Economy_Factsheet_Alabama.pdf or   http://www.pewtrusts.org/cleanenergy
5. BEN Notes: Birmingham Audubon Seeking Education Director, Nature Conservancy Seeking Development Director, Tuesdays on the Trail in Huntsville, Green Building Focus Conference, Coastal Kids Quiz Making a Difference, Legacy Teacher Workshops
Birmingham Audubon Seeking Education Director - Check out the Birmingham Audubon Society open position for a part-time program director at: 
http://www.bamanews.com/2009/06/birmingham-audubon-seeking-part-time.html
Nature Conservancy Seeking Development Director - The Nature Conservancy of Alabama will be seeking a Development Director.  Please check the following website in the next few days (the position has not been posted yet) for details or call 205-251-1155.
https://careers.nature.org/psp/P89HTNC_APP/APPLICANT/HRMS/c/HRS_HRAM.HRS_CE.GBL
Tuesdays on the Trail in Huntsville - The Land Trust of Huntsville and North Alabama will be holding "Tuesdays on the Trail" Summer Series every other Tuesday.  The next event is on Tuesday, June 23rd - titled "Creek Critters."  For details go to - 
http://www.landtrust-hsv.org/events/event/tuesdays-on-the-trail-creek-critters/2009-06-23 .  Check out the entire series of events at : http://www.landtrust-hsv.org
Green Building Focus Conference - Birmingham will be hosting the Southeast Regional - Green Building Focus Conference & Expo on July 28-29 in Birmingham, Alabama.  For details visit: http://greenbuildingfocus.com/default.aspx?id=681
Coastal Kids Quiz Making a Difference - One of the most exciting and successful environmental education programs in Alabama is the Coastal Kids Quiz which takes place in Baldwin and Mobile counties.  Recently, the program was recognized by the Environmental Education Association of Alabama as the "Best Environmental Education Course/Curriculum" for 2009.   
On April 28th, this year's 8th Annual Coastal Kids Quiz presented by the Alabama Coastal Foundation and The Project CATE Foundation was won by the fifth grade team from Bayside Academy, with Bayshore Christian School taking second place, and Christ the King School taking third place.
Free Teacher Workshop at Camp Mcdowell -  Legacy is sponsoring a free Teacher Workshop at Camp McDowell from July 12-17.  For details about this hands-on training visit http://www.legacyenved.org or http://www.campmcdowell.com