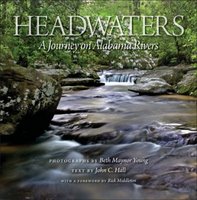 Eastern Coral Snake in Coosa County (Photo -Mark Bailey)
******************************
Check out BEN Publisher Pat Byington's op-ed about Forever Wild.
http://blog.al.com/birmingham-news-commentary/2009/04/keep_funding_for_forever_wild.html
*******************************
Union of Concerned Scientists - A National Blueprint for Clean Energy Report
http://www.ucsusa.org/global_warming/solutions/big_picture_solutions/climate-2030-blueprint.html
**************************************
Check out Beth Maynor Young's website and the latest Headwater News and booksignings
http://www.cahabariverpublishing.com/news/
****************************************
1. Alabama Power to Pump Carbon Dioxide Underground - According to the Mobile Register, Alabama Power's Barry Electric Generating Plant north of Mobile will be home to the nation's first large-scale attempt to capture carbon dioxide emitted from a coal-fired power plant and injected beneath the surface.  Beginning in 2011, tens of thousands of tons of the potent greenhouse gas will be sent 9000 feet underground the Citronelle oil fields.
The carbon capturing technology has received a favorable response from two major environmental groups, Environmental Defense and the Natural Resources Defense Council.  The experimental project, which is one of the first of its kind in the world, will take four years to complete.
A description of this project can be found at: http://www.alabamapower.com/news/iframe_pressroom.asp?WT.svl=body_morenews
2. American Lung Association Releases Annual State of the Air Report - Last month, the American Lung Association released their annual "State of the Air" report, ranking and grading 17 Alabama counties.  The report and rankings were based on the number of days from 2005 to 2007 in which air quality monitors recorded unhealthy air.  Below are some of the results:
* The Birmingham Metro area ranked 5th in the country for pollution from fine particle pollution, or soot in the air.
* Birmingham ranked 20th nationally in ozone pollution.
* Baldwin County received an A for having low particle pollution levels.
* Mobile, Escambia and Dekalb counties all received B's for low particle pollution levels.
* In the state of Alabama, 12 of 16 counties where ozone levels were checked received F's for ozone pollution.
To view the entire report, visit the American Lung Association website at http://www.stateoftheair.org  .  If you want to personally take action and reduce air pollution visit http://www.alabamacleanair.org
3. Report: The South and Renewable Energy - According to a report released by SouthFace, the Southern Alliance for Clean Energy and World Resources Institute, Alabama can dramatically increase it's renewable energy production from today's regional average of 5% to 25% renewable generation by 2025.
The report, which is titled "Local Clean Power," calls on the eight southern states in the report to require its electric industry to produce a certain percentage of power from renewable energy.  Presently, North Carolina is the only Southern state with such a law.  Nationally, half of all the states now have renewable requirements.  To view the report visit - http://www.wri.org
4. Boy Scouts in Alabama Turning Green - This Spring, the Greater Alabama Council Boy Scouts of America, which serves 22 counties in North and Central Alabama, announced a first of its kind program in the nation aimed at promoting good environmental practices.
The new program, is the creation of the BSA Green Unit Award, which honors scouting chapters and presents badges to Boy Scouts who agree to follow "leave no trace" practices by using biodegradable items and mess kits on camping outings and participate in community service projects that help promote protecting the environment.
The National Council Boy Scouts of America is reviewing the Alabama campaign, to consider whether to implement the initiative nationwide.
5. Eastern Coral Snake Found in Coosa County -  Please check out this blog entry that was posted by biologist Mark Bailey at  http://hogspot.blogspot.com   .  He describes in the entry the rare discovery (with photographic evidence!) of a eastern coral snake in Coosa County.  It was thought that the snake had been extirpated (disappeared) from most of South Alabama, let alone Central Alabama.  The new find, which was on Forever Wild land, was a pleasant discovery!
Check out the entry here - http://hogfoot.blogspot.com/2009/04/coosa-coral.html
6. BEN Notes: Black Warrior Riverkeeper Seeking to Fill Staff Attorney Position, Gulf Guardians Nominations, Manatee Car Tags, Cahaba River Ramble, Alabama Waterways "A Photographic Celebration"
Black Warrior Riverkeeper Seeking to Fill Staff Attorney Position -  The Black Warrior Riverkeeper is seeking a Staff Attorney. For in-depth details about this position visit http://www.blackwarriorriver.org The deadline for applications is June 15th.
Gulf Guardian Nominations - The US EPA's Gulf of Mexico Program is accepting nominations for the 2009 Gulf Guardian awards.  The deadline to submit an application is June 5th.  You can access the application forms at http://epa.gov/gmpo  .  Questions? - Call Diane Altsman at 228-688-7015.
Manatee Car Tags - State revenue officials have approved designs for a manatee license plate.  Proceeds from the sale of the tags will go toward efforts to fund manatee research efforts.  Before the state manufactures any plates, however, 1000 must be preordered between May 1, 2009 to May 1, 2010.  Contact the Mobile Bay Manatee Sighting Network online at http://press.disl.org/4_27_09manatee.htm for additional info.
Cahaba River Ramble - Please join the Cahaba River Society on Saturday, June 6th, 7:30 A.M. at the Cahaba River National Wildlife Refuge to participate in the Cahaba River Ramble.  Proceeds from the event benefit the Shane Hulsey CLEAN Environmental Education Program of the Cahaba River Society.  For registration information and directions visit http;//www.cahabariversociety.org or call 205-322-5326 x416 .
Alabama Waterways "A Photographic Celebration" - Mark your calendars - The Alabama Rivers Alliance will be holding Alabama Waterways "A Photographic Celebration" on June 11th, 5:30-8:30 at the  Lite Box Gallery in Birmingham.  Work from photographers Beth Young to Charles Seifried will be exhibited, along with works by grassroots river protectors.  Proceeds from the show  go to the Alabama Rivers Alliance.  For more info, visit http://www.alabamarivers.org