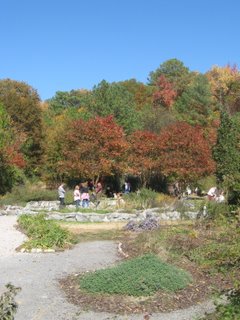 The Ecoscape at Birmingham Southern College

1) Alabama Home to Six (6) of Southeast's Most Endangered Fish
2) Auburn University Study: Shade Trees Reduce Power Bills By 11.4%
3) Group to Oppose TVA Weed/Lake Decision in North Alabama
4) NWF New Global Warming Water Resource Report in the Southeast
5) BEN Notes:  Camp McDowell Seeking Program Coordinator, Alabama Scenic River Trail Association Seeking Executive Director, NWF Seeking Regional Director, Southern Environmental Law Center Writing Contest, Birmingham Audubon's 62nd Christmas Banquet A Gala Evening in Honor of Jack Edwards, The Wyland Mobile Learning Center "A Glimpse at the Sea", Raindrop Art Sale
****************************************
Thicket Magazine and Breast Cancer Awareness
Subscribe to Thicket during the months of October and November and 50% of the proceeds will go to Susan G. Komen for the Cure, North Central Alabama Affiliate. Look for the pink subscription cards inside the magazine (found in local Barnes & Noble and Books-A-Million bookstores around the state), or subscribe online. The deadline for this offer is November 30th.
http://thicketmag.com/subscribe-today.php
***************************************
Religion and the Environment
The Pew Forum - U.S. Religious Landscape Survey
Sierra Club's Faith in Action Report
http://www.sierraclub.org/partnerships/faith/report2008/report2008.pdf
***************************************
Alabama Chanin
Sustainable Life-Sustainable Style - check out this wonderful company out of Florence, Alabama.  A truly special business that cares about the environment and people.
***********************************************
1. Alabama Home to Six (6) of Southeast's Most Endangered Fish - According to the Birmingham News, earlier this month, in a report presented to the Southeastern Fishes Council, half of the Southeast's 12 most critically endangered fish reside in Alabama.  Named the "Southeast's Desperate Dozen," the list  of endangered fish was created based on the severity of threats to them, their abundance and the size of their range remaining.
The Alabama fish that made the list are: the Alabama cavefish, the Alabama sturgeon, the pygmy sculpin, the spring pygmy sunfish and the vermilion darter.  A sixth fish, a tiny catfish called the chucky madtom, now survives only in Tennessee, after it was extinguished from Alabama decades ago. 
The scientists who released the Desperate Dozen list, hope to publicize the plight of Souteast's fish populations. For years the region which has been recognized for possessing the nation's greatest freshwater biodiversity in the United States.  Alabama leads the region with the largest number of fish species.
For more information about the Southeastern Fishes Council  & a copy of the report, visit - http://www.flmnh.ufl.edu/fish/organizations/sfc/SFCDefault.htm
2.  Auburn University Study: Shade Trees Reduce Power Bills By 11.4% - According to a new Auburn University study, trees that provide just 17.5% of heavy shade coverage for houses can save up to 11.4% on electricity usage and costs.
The yearlong study, which was conducted by economist Dr. David LaBand from Auburn University's School of Forestry, studied 160 houses in the Auburn area to determine the annual energy savings provided by shade trees, primarily looking at the months of May to September.  He analyzed power bills, calculated shade coverage and surveyed the homeowners about household makeup, electricity usage habits, square footage, type of air conditioning, appliances, roofing, exterior material and other factors. Using local power company rates for kilowatt hours per day, Laband said the 11.4% savings would equal $31 to $33 per month.
3. Group to Oppose TVA Weed/Lake Decision in North Alabama - Last month, the TVA board of directors decided to discontinue a significant portion of the management of aquatic plants on Guntersville Lake.
In response to that action, an impressive number of the region's officeholders, business owners and community leaders have formed a committee, opposing TVA's actions while also calling on the agency to take a pragmatic approach to resolve the weed problem in lake.
The group's primary environmental concern is the fear that without TVA's  management of the lake's weed problems, thousands of residents will be start individually and haphazardly spraying the lake to address weed problems, endangering people and natural resources.
Here is a blog entry by  Huntsville Times outdoor writer Alan Clemons explaining the issue.
http://blog.al.com/gone-fishing/2008/11/tva_slammed_and_rightly_so.html#more
4. NWF New Global Warming Water Resource Report in the Southeast - In a new report released by the National Wildlife Federation, titled - "More Variable and Uncertain Water Supply: Global Warming's Wake -Up Call for the Southeastern U.S.," the group offers the latest scientific research on global warming and water supplies, competition for resources, demographic factors and how to better prepare for managing the region's water availability.
The report focuses on the South's most recent droughts, population and water usage trends and potential climate change related impacts on the South's water supplies and biodiversity. According to NWF's Climate scientist Amanda Staudt, "Global warming presents new challenges for managing America's water resources, especially in our southeastern states."
Check out the NWF report at http://www.nwf.org/extremeweather
5. BEN Notes:  Camp McDowell Seeking Program Coordinator, Alabama Scenic River Trail Association Seeking Executive Director, NWF Seeking Regional Director, Southern Environmental Law Center Writing Contest, Birmingham Audubon's 62nd Christmas Banquet, A Gala Evening in Honor of Jack Edwards, The Wyland Mobile Learning Center "A Glimpse at the Sea", Raindrop Art Sale
Camp McDowell Seeking Program Coordinator -  Camp McDowell is seeking a program coordinator for its environmental center.  For details visit http://www.campmcdowell.com
Alabama Scenic River Trail Association Seeking Executive Director - The Alabama Scenic River Trail Association is seeking  an Executive Director. The Deadline to apply is December 1st.  For details, visit -  http://www.alabamascenicrivertrail.com/news/?newsID=5&date=11/11/2008
NWF Seeking Regional Director -  NWF is seeking  a Southeast Regional Executive Director.  The position is located in Atlanta.  For complete details visit: https://secure.nwf.org/careergateway/index.cfm?fuseAction=view&positionID=10537
Southern Environmental Law Center Writing Contest - The Southern Environmental Law Center is now accepting applications for the 14th Annual Phillip D. Reed Memorial Award for Outstanding Writing on the Southern Environment.  To learn about this prestigious award visit:
http://www.southernenvironment.org/newsroom/press_releases/11_6_phil_reed_call_for_submissions/
Birmingham Audubon's 62nd Christmas Banquet - Birmingham Audubon Society will be holding their 62nd Annual Christmas Banquet on December 2nd at the Vestavia Hills Country Club.  This year's featured speaker is noted commentator on NPR's "All Things Considered" and author Julie Zickefoose.  Please make your reservation by November 25 at 205-823-3695 to this special event.  For additional info, visit http://www.birminghamaudubon.org  or http://www.juliezickefoose.com
A Gala Evening in Honor of Jack Edwards - The Weeks Bay Foundation is hosting "A Gala Evening in Honor of Jack Edwards," December 4th, 6:00 PM at the Fairhope Yacht Club.  Jack Edwards is a former Republican Congressman and the outgoing board chairman of the Foundation.  Tickets are $50.  For more information, go to http://www.weeksbay.org  or call 251-990-5004.
The Wyland Mobile Learning Center "A Glimpse at the Sea" - Mobile Baykeeper, 5 Rivers Delta Resource Center and the Mobile Area Water & Sewer System will be bringing the Wyland Mobile Learning Center to the Five Rivers Resource Center.  The marine artist, Wyland and the non-profit Wyland Foundation have created a traveling "hands on" exhibit targeted to children to learn about the importance of water.  The program will be at the Resource Center from December 4-10 with Mobile Baykeeper Family Fun Day on Sunday, December 7th.  For more info and scheduling details contact Five Rivers at 251-625-0814 or Mobile Baykeeper at 251-433-4229.
Raindrop Art Sale - The Hulsey Little River Land Trust will be holding their annual Raindrop Art Sale at ROJO in Birmingham, Alabama on December 13th.  For details, visit http://www.hlrt.org