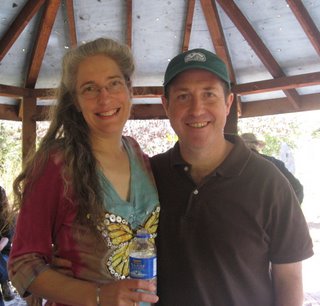 Kathy Rose- Byington & Pat Byington

This commentary appeared in the Birmingham News today.
By: Pat Byington of the Wilderness Society
In the fall of 1990, my wife and I were newlyweds when Alabama Conservancy founders Bob and Mary Burks took us on a slow, meandering afternoon ride through the neighborhoods of Birmingham.  We spent the entire afternoon looking at the colorful fall leaves.
 My wife Kathy, a lifelong resident of the evergreen Pacific Northwest, had just arrived in Alabama that summer.  It was her first experience seeing leaves change colors in the South.
 After driving for awhile and taking in a display of bursting colors and falling leaves greater than any fireworks show, Mary Burks turned around and with a welcoming smile, said:  "You only get one fall each year."
 Mary taught us something that day through her enthusiasm and passion.  She was thankful for the season and for the natural beauty of Alabama.
 Our state faces many environmental challenges. The long list includes garbage dumps that litter our landscapes, air and water pollution problems, and loss of the special places that we cherish. It is easy to be overwhelmed. 
 But for those who care about the environment, we have much to be grateful in this state.
·      Alabama's diverse environment.  Alabama has been blessed with more different  kinds of fish, turtle, mussel and snail than any other state in the nation.
·      Our state's Forever Wild Land Acquisition Program that has protected and preserved nearly 140,000 acres of land for hunting, hiking and conservation. 
·      The Alabama Environmental Management Commission that passed a regulation this year that reduces substantially the amount of cancer-causing toxics that are discharged into our waters.
·      New innovative nature centers and gardens that have been built this year or are in the midst of construction, including Ruffner Mountain, the 4-H Center, the Jacksonville State University's Canyon Center at Little River, the Alabama Wildlife Federation's Lanark Nature Center and numerous community gardens and "ecoscapes" around Birmingham.  Each nature center and garden will educate thousands of children a year about nature and the world around us.
·      Governor Bob Riley and the Alabama legislature, for passing last Spring the state's first comprehensive solid waste recycling/waste reduction law in 20 years.
·      Faith Apostolic Church in west Birmingham, which has set aside church property to protect the endangered Watercress Darter -- turning its land into an Ark for one of God's most beautiful creations.
·      Anne Miller, the founder and recently retired director of the Alabama Wildlife Center.  A modern day St. Francis, she has spent 30 years saving, rehabilitating and releasing thousands of animals back into the wild.
·      Doug Phillips,  creator, producer and host of the Emmy nominated Alabama Public Television program Discovering Alabama.  Folksy "Dr. Doug's" Discovering Alabama television program has brought the state's natural wonders into a generation of Alabamians homes for 20 years. 
·      NASCAR stars Ryan Newman and Bobby Allison, who supported private and congressional efforts to buy land adjacent to the Talladega National Forest that will help link up the Pinhoti Trail to the world famous Appalachian Trail. 
·      Alabama Power's Renew Our Rivers Program that has enlisted over 10,000 volunteers to remove more than 9 million pounds of trash along our state's lake shorelines and the banks of our streams and rivers.
·      Local watershed and land trusts groups. Not many regions have fully staffed and dedicated river/water protection groups such as the Cahaba River Society, Black Warrior Riverkeepers, Alabama Rivers Alliance, and the Freshwater Land Trust.
·      The emerging green business and building movement in Alabama.  The greening of Alabama's businesses and industries are becoming so prominent both the Birmingham Business Journal and the chamber's Birmingham Magazine ran special "Green" editions this fall.
Despite all our environmental problems and challenges, we are fortunate to live in this special place.  Like the colorful autumn leaves on a tree, we are blessed with the bright mosaic of people who care for this place everyday … people who understand you only get one Alabama, one earth, one day at a time to love it all.