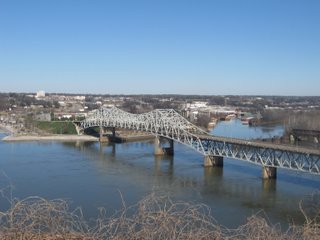 O'Neal Bridge - the Tennessee River & the City of Florence
To many environmentalists, photographer Beth Young is the "Ansel Adams of Alabama."  Please consider pre-ordering her new book Headwaters - A Journey on Alabama Rivers .  You can check out a preview of the book at:
http://www.kingfishereditions.com/headwaters/phpslideshow.php?directory=.&currentPic=0
***********************************************
1. Mobile NEP Releases "State of the Bay" Report - According to the recently released Mobile Bay Estuary Program's "State of the Bay" report, the environmental health of Mobile Bay is in good shape, but continues to face many ecological challenges.
The report, which took four years to produce, used scientific data and environmental indicators from a variety of sources including water quality, wildlife habitats, land use and community involvement. 
Some of the findings:
* Some threatened and endangered species in the Mobile Bay area seem to be rebounding.  Manatee sightings in Alabama coastal waters have been on the rise, and species such as the brown pelican have been taken off the federal endangered species list.
* Increased urbanization has had a negative impact on several kinds of habitats.  Development has been cropping up not only on the coastlines, but also many tributaries. 
* Increased development and population growth has led to more impervious surfaces on the Alabama coast - roofs, roads and parking lots.  As a result, pollutants/stormwater drain into the Bay at greater rates harming vegetation and causing an increase in flooding.
* Progress has been made to restore and conserve several coastal habitats, including salt marsh restoration on Mon Louis Island, dune production for the Alabama beach mouse in Bon Secour and shoreline stabilization on Dauphin Island.
* In Mobile and Baldwin counties, 44 water bodies are listed as impaired because of poor water quality, with about 22 of those listed because of levels of mercury contamination.
Portions of the "State of the Bay" report has been published in the Mobile Register.  To read the entire report, visit http://www.mobilebaynep.com
2. City of Trussville to Protect 1472 Acres Along the Cahaba River - In a surprising move, last month, the city of Trussville announced it's intention to purchase 1472 acres along the Cahaba River from a developer who had slated the property for a 2000 home development.  As a result of the housing downturn, Deerfoot Investment Co. agreed to sell the land to the Trussville Utilities Board for about half the appraised value.   After developing a water well on a few acres, the Utilities Board will sell the remaining property to the city.
According to Trussville mayor Gene Melton, local leaders had been concerned about the developer's option for 2000 homes on  the property, including the shaving off of the ridges to allow additional development.  In lieu of the development the land will be used to help protect the Cahaba River, the mountain range and add to the city's park properties.
3. Report: Air Toxics at Unsafe Levels in Alabama - Last month, the Conservation Alabama Foundation  released a report titled "Toxic Air Pollution in Alabama: A Threat to Human Health" which analyses air pollution data collected by the Alabama Department of Environmental Management, the Jefferson County Department of Health and a consortium of organizations in Mobile County.  The data, which came from local air toxic monitoring sites, cited 15 air toxics  that exceeded the "maximum safe chronic exposure" limits set by EPA.  Thirteen of the 15 air toxics are known or probable contributors to cancer, and the other two toxics acrolein and manganese have serious health affects as well.
The goal of the report according to its author environmental attorney David Ludder is to raise public awareness and encourage ADEM to acknowledge the air toxics problem and "do something about it." The full report is available online at Conservation Alabama Foundation's website http://www.conservationalabamafoundation.org or at the Law Office of David Ludder's website http://www.enviro-lawyer.com
4. Report: Green Resource Center for Alabama's "Green Gauge" Report - Last month, The Green Resource Center for Alabama released it's first annual "Green Gauge 2008" report highlighting some of the year's important developments toward making Alabama a greener place to live, work and play.  The Bama Environmental News helped the Green Resource Center compile the report.
Here are some of the key green moments in 2008 from the Green Gauge :
* AEMC passing a stricter cancer risk standard for Alabama's waters.
* Enactment of legislation to support the state's landfill inspection program and provide grants to help expand recycling.
* Passage of a law  increasing fines for illegal hunting and fishing.
* Forever Wild protects nearly 6000 acres in 2008
* Birmingham's Three Parks Initiative, the Alabama Scenic River Trail, Ladiga Trail connects to Silver Comet, State's 3rd Birding Trail in the Black Belt.
To read the entire Green Gauge Report visit http://www.greenalabama.org
5. BEN Notes: AWF's 2009 Alabama Flora & Fauna Art Show, Antarctica & Climate Change Presentation in Bham, ADEM's 20th Non-Point Source Conference, AWF's Workshops for Teachers, Cahaba River Society's Annual Meeting, Wild About Chocolate, Legacy 2009 Partnership Conference, ARA Watershed Leadership Conference 
AWF's 2009 Alabama Flora & Fauna Art Show -  The Alabama Wildlife Federation is holding their 5th Annual Flora and Fauna Art Show at Historic Lanark in Millbrook, Alabama, April 4-10.  The deadline to submit art is February 6th.  For details on how to participate, contact Ann Harper at 800-822-9453.
Antarctica & Climate Change Presentation in Bham - Join members of the Birmingham Audubon Society tonight, January 15th, 7:00 at the Birmingham Zoo for a presentation by Dr. James McClintock, the Endowed University Professor of Polar and Biology at the University of Alabama Birmingham.  His topic will be on the ecological impacts of climate change on the Antarctic Peninsula. For info about Dr. McClintock and his program, visit http://www.antarctica.uab.edu  .
ADEM's 20th Non-Point Source Conference - Alabama Clean Water Partnership and ADEM will be holding the 20th  Annual Non-Point Source Conference "A 20 Year Journey of Alabama's NonPoint Source Program" on January 20-21 in Montgomery.  For registration info go to:  http://www.cleanwaterpartnership.org/adem/sourceConf.php
AWF's Workshops for Teachers - The Alabama Wildlife Federation will be holding Workshops for Teachers two or three times a month.  In January, the AWF will be holding a "Discovering Alabama's Birds and Butterflies" workshop on Jan 27th in Cullman and Jan. 29th in Evergreen.  On Jan. 22nd at the AWF Alabama Nature Center in Millbrook they will be holding the "Introduction to the Ponds for Kids"  (PFK) Program.  For additional info about AWF's teacher workshops, call Doyle Keasal at 334-844-6398 or April Waltz at 256-882-9322.
Cahaba River Society's Annual Meeting - The Cahaba River Society will be holding their Annual Meeting on January 29th, 5:30 at the Birmingham Botanical Gardens.  For more information visit http://www.cahabariversociety.org
Wild About Chocolate - The Alabama Wildlife Center will be holding their 5th Annual Wild About Chocolate Valentine Gala on February 14th, 7:00p.m. at Workplay in Birmingham, Alabama.  All proceeds from this wonderful event benefit the Center and the thousands of animals they save and rehabilitate over the year.  Tickets in advance are $75 and can ordered at 205-663-7930.  For additional details visit http://www.awrc.org 
Legacy 2009 Partnership Conference - Legacy will be holding their 2009 Environmental Partnership Conference on Feb. 18-20 at the Perdido Beach Resort in Orange Beach.  The deadline to register is January 23rd.  For details, visit the Legacy website at http://www.legacyenved.org/events/events_conf.htm
ARA Watershed Leadership Conference - The Alabama Rivers Alliance will be holding their 11th Annual Watershed Leadership Conference on March 20-22 at beautiful Camp McDowell.  Visit http://www.alabamarivers.org for details.