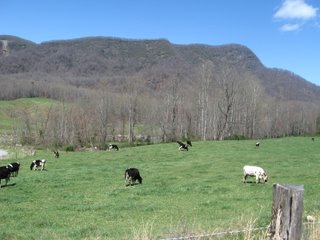 Check out Thicket Magazine's new "Green Issue" on newsstands now. Or visit http://www.thicketmag.com
***********************************************
Visits to Bama Environmental News website ( http://www.BamaNews.com ) in March 2009 - 5445
*************************************************
Check out recent photos/story updates posted by the Locust Fork Journal about the Roebuck/Watercress darter pond disaster that occurred in Birmingham last fall.
http://blog.locustfork.net/category/environment-news/
*************************************************
Headwaters: A Journey on Alabama Rivers
Order online this amazing book of 150 photographs from Alabama's "Ansel Adams" Beth Maynor Young. This visually stunning book is complimented by the narration of master storyteller John C. Hall. Order your book today at http://www.kingfishereditions.com - hit the "news" link. Also, check out Beth's schedule of booksignings in the community near you.
*************************************************
1. New National Public Lands Law to Benefit Alabama - Last week, President Barack Obama signed into law the Omnibus Public Lands Management Act. The new law establishes 2.1 million acres of wilderness in nine states, gives landmark protection to more than a million acres in the Wyoming Range, designates four national conservation areas and establishes one national monument.
In Alabama, the new law established the following:
* Newly adjusted and expanded boundaries for the Little River Canyon National Preserve;
* Creation of the Shoals National Heritage Area;
* Creation of the Chattahoochee Trace National Heritage Area
Each National Heritage Area carries limited financial and technical assistance from the National Park Service.
For additional information about the new Omnibus Public Lands Law, visit http://www.wilderness.org
2. Several Alabama Caves Closed To Stem Wildlife Crisis - According to the Birmingham News, several Alabama caves known to be home to endangered gray bats have been closed by owners and managers as a part of nationwide measures to stem the spread of white-nose syndrome, a wildlife crisis that has killed hundreds of thousands of bats from Vermont to West Virginia.
Anderson Cave in Shelby County, which is owned by the Birmingham Water Works Board and managed by the Southeastern Cave Conservancy has been closed, along with four North Alabama caves managed by Wheeler National Wildlife Refuge Complex - Fern Cave, Sauta Cave, Cave Springs Cave and Key Cave. Sauta Cave in Jackson County is the winter hibernation home to more than 1 million gray bats, the largest population in the world, reported in the News.
The U.S. Fish and Wildlife Service has called for a voluntary moratorium on all caving activity in states known to be affected by white-nose syndrome, and is asking cavers in other states to not use gear or clothing that has been used in affected states.
Visit - http://www.fws.gov/northeast/white_nose.html for the latest details on this national wildlife crisis.
3. LuLu's Homeport to Receive Dauphin Island Sea Lab Award - This year, the Dauphin Island Sea Lab has established the "DISL Seventh Generation Award", an award that will be given annually to the person/organization that embodies the tenets of sustainability, stewardship and pro-active practice in considering our natural resources for the seventh generation
This year's first DISL Seventh Generation Award will be given to Lulu's at Homeport Marina in Gulf Shores. Lulu's will be recognized for their innovative environmental efforts which include the installation of an environmentally friendly windmill, serving only grass-fed, Alabama raised beef in its award-winning restaurant and the incorporation of the rain garden concept into their parking lots which dramatically improves the quality of stormwater runoff into the Intracoastal Waterway.
The award will be presented to Lulu's owner Lucy Buffet and General Manager Johnny Fisher at the Sea Lab's Discovery Day on April 18th.
4) BEN Notes: Ruffner Mountain Conservation Manager Opening, MyGreenBirmingham.com, Bibb County E-cycling + Additional E-cycling Events, University of Alabama Sustainability Events, Earth Day Across Alabama From Auntie Litter to Shoals Earth Day, Spring Concert at Three Caves
Ruffner Mountain Conservation Manager Opening - Ruffner Mountain Nature Center in Birmingham is seeking a Conservation Manager to manage their 1011 acres preserve. Visit http://www.bamanews.com/2009/04/ruffner-mountain-seeking-conservation.html for complete details.
MyGreenBirmingham.com - A wonderful new environmental website aimed at helping citizens find environmental solutions/activities in their community has been launched in Birmingham. Check it out at http://www.mygreenbirmingham.com
Bibb County E-cycling + Additional E-cycling Events - On April 11th there will be a- Bibb County E-Cycling event by the Bibb County Youth Leadership Program & Technical Knock Out in Woodstock, Green Pond and Centreville - 9am to 3pm - Call 205-926-3117 or 205-585-7835/ http://www.technicalko.net
University of Alabama Sustainability Events - Here are two sustainability events at the University of Alabama next week. April 14 - "Environmental Policy and the Problem of Justice" presented by Breena Holland, Lehigh University - 7:30pm at the Biology Auditorium, University of Alabama and April 17 - "Climate Change: Can Mathematics Help Clear the Air?" presented by Chris Jones, University of North Carolina - 1:00pm at Gordon Palmer Hall, University of Alabama. For details visit http://www.as.ua.edu/public/programs/apsacc/index.html
Earth Day Across Alabama From Auntie Litter to Shoals Earth Day - Check out the Earth Lineup:
April 17-18 - STICKS Country Music Festival, Palmer Hill in Auburn - visit http://www.conservationalabama.org for details.
April 18 - Dauphin Island Sea Lab's Discovery Day - Discovery Day 2009 will celebrated at the Dauphin Island Sea Lab this spring on April 18th, 10am-2pm. For details visit http://www.disl.org and hit the "What's New" banner link.
April 18 - Flint River Conservation Association/ 39th Annual Earth Day Event at the Hays Nature Preserve - visit http://www.huntsvillepreserves.com or http://www.flintriverconservation.org
April 18 - Lowndes Citizens United for Action Earth Day - in the Haynesville Town Square - 10am to 2pm - for details contact barbara@wildlaw.org
April 19 - Earth Fest - Tuscaloosa's Annual Earth Day Event on the University of Alabama campus - http://bama.ua.edu/~UAEC/
April 18 - Grow Alabama's Earth Day on the Farm - Blount County - For details, visit http://www.growalabama.com/events.shtml
April 18 - Whole Foods Electronic Recycling Event in Mountain Brook
April 19 - Party for the Planet Earth Day Celebration at the Birmingham Zoo - visit http://www.birminghamzoo.com
April 20 - Electronic Recycling Event at the Jasper, Alabama Mall
April 21-22 - Earth Day Safari at the Montgomery Zoo -http://www.montgomeryzoo.com
April 19 - Earthbound's Earthfest - to benefit the Black Warrior Riverkeeper - from 1:00pm to Sundown at the Bessie Estelle Park near the UAB campus - call 205-458-0095 for details
April 22 - 18th Annual Auntie Litter Parade and Celebration - Birmingham -http://www.auntielitter.org
April 23 - Earth Day at Samford University - visit http://www.samford.edu/earthday/
April 25 - Earth Day Mobile Bay 2009 - 19th Annual Mobile Bay Earth Day - 10:00am to 7:00pm - Fairhope Pier Park, Fairhope, Alabama - http://www.earthdaymobilebay.org
April 25 - Shoals Earth Day and Earth Month - April 25th, 11:00 to 6:00 at Wilson Park in Florence, Alabama - Visit http://www.shoalsearthday.com or contact NancyMuseSea@aol.com or 256-767-2909.
April 25 - "A view from the Earth" 3rd Annual Earth Day Celebration in Collinsville, Alabama - visit http://www.dreamfieldproduction.net or call 256-844-8235
April 25 - Earth Day at Bellingrath Gardens in Mobile with Mobile Baykeeper - 9:00AM to 3:00PM - for details visit http://www.bellingrath.org/earth-day.html
April 25 - Wildlaw Presents Earth Day in Tuskegee National Forest at the Taska Recreation Center - 11am to 1pm - details, barbara@wildlaw.org or http://www.wildlaw.org
April 25 - Five Mile Creek Greenway Volunteer Event - for details visit http://www.cawaco.org/fivemilecreek/
April 26 - Earth Day at the Gardens - 12th Annual Earth Day at the Gardens - Birmingham Botanical Gardens - http://www.bbgardens.org
Spring Concert at Three Caves - The Land Trust of Huntsville and North Alabama will be holding the annual Spring Concert at Three Caves "An evening of hit music, stories & laughter under the stars" - on May 15th, 6:30pm Free shuttle leaves from Huntsville hospital - for detail contact the Land Trust of Huntsville and North Alabama at http://www.landtrust-hsv.org