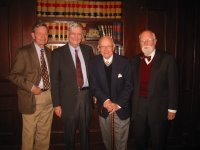 In the center - (L to R) E.O. Wilson & Bill Ireland
After this year - we only have 2-3 legislative sessions left to reauthorize Forever Wild's funding.

From the Birmingham News:
A couple years ago, before a meeting of the Downtown Rotary Club in Birmingham, I had the pleasure of meeting  world-renowned biologist and Alabamian E.O. Wilson and the late Bill Ireland, one of Alabama's greatest conservationists and most generous philanthropists.
Seeing those two incredible people in the same room is something I will always remember.
One of Ireland's greatest achievements was his tireless effort to pass the Forever Wild Constitutional Amendment  — a law that has saved thousands of acres in Alabama. Throughout the years, every time we would meet, the topic of Forever Wild would come up. Before that Rotary Club meeting, E.O. Wilson mentioned the importance of Forever Wild. Later, when I greeted Bill, he just smiled and shook my hand vigorously in celebration of that great law. It was like he was saying, "We did it!"
As we celebrate Earth Day this Thursday, there is one date in the future that Bill would be focused on:
October 1, 2012.
That is when funding for Forever Wild is scheduled to end. Bill would tell us not to let it lapse.  
Continue Reading at :
http://blog.al.com/birmingham-news-commentary/2009/04/keep_funding_for_forever_wild.html