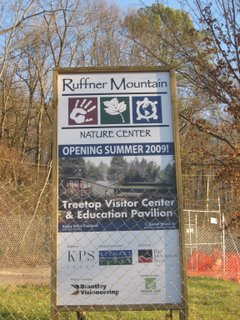 CONSERVATION LAND MANAGER
Ruffner Mtn Nature Center in B'ham, AL. seeks land manager for its 1,011 acres of urban forest. Duties include primary land management;  update/implement RMNC's Conservation Plan; set/implement annual stewardship goals; maintain 11 miles of trails & plan/oversee construction of new trails; recruit/supervise stewardship interns/volunteers; control invasive plant species; fence/post/secure property boundaries; interface with visitors/adjacent land owners/Gvt. officials; and with other RMNC staff, lead some education programs & nature walks, participate in special events and volunteer projects. 
Qualifications: BS degree in conservation biology, natural sciences or a related field, or combination of education/experience in conservation of natural resources; knowledge of flora/fauna of the SE; exp.w/ Archview software for GIS/GPS; with use of herbicides, exotic week control and vegetation restoration; use of a variety of hand/power tools.  Normal work week Tues - Sat.
Benefits: salary upper $30s dependent upon exp; ind.health/dental ins; access to family coverage; generous vacation/sick/holidays. Submit cover letter and resume to bwatson@ruffnermountain.org; or fax 205-836-3960 or mail to 1214 South 81st Street, Birmingham, AL 35206   Deadline:4/30.