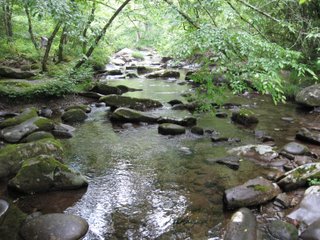 Dr. Dan Holliman
Alabama lost a very special teacher, biologist, conservationist and friend last week with the passing of Dr. Dan Holliman. One of the founding members of the Alabama Conservancy, Dr. Holliman conducted some of the biological studies that led to the creation of the Sipsey Wilderness.  We will miss his gracious spirit but we will celebrate and carry on everyday the life and gifts he shared while he was among us.
http://www.bsc.edu/communications/news/2009/20090219-holliman.htm
**************************
In lieu of a subscription fee, the Bama Environmental News requests readers to donate to a chosen BEN charity.  Here are two of the five charities. 
Attn.: Marion Smith
1615 M  N.W. Street Suite 200
Washington, DC  20036
University of Washington
Dr. Norman James & Ethel Jenisch Rose Endowed Student Scholarship
UW Medicine Development
1325 Fourth Avenue Suite 2000
Seattle, Washington 98101
To check out the entire list visit:
http://www.bamanews.com/donation.html
*******************************************
1. Two Alabama Mussels Possibly Extinct ... The Global Importance of Alabama Mussels - Last week, it was reported in the Birmingham News that the US Fish and Wildlife Service has proposed listing two mussel species native to Alabama as extinct.  The two mussels that are candidates for extinction are the Upland Combshell and the Southern Acornshell. Each species were found in the Coosa and Cahaba rivers, but have not been found since the early 1970s.
Check out the following "Mussel Facts" from the Birmingham News that describe the global importance of Alabama's mussels and our unique riverine system. From the News:
* Alabama historically was home to 60% of U.S. freshwater mussels.
* Alabama's native mussel species make up about 26% of all freshwater mussels found globally.
* 180 freshwater mussel species historically occurring in Alabama
* 137 mussel species remain in Alabama
* 41 endangered mussel species listed in Alabama
* 28 Alabama mussel species are believed to have become extinct in the past century.
* 15 species have disappeared from Alabama waters but still are found elsewhere
2. Study: 370,000 Acres of Coastal Wetlands Lost Between 1998-2004 - According to a new study by the National Oceanic and Atmospheric Administration nearly 370,000 acres of coastal wetlands were lost along the Gulf of Mexico between 1998 to 2004. The study, which included coastal salt marshes, concluded that development in the Gulf region, especially in Mississippi and Alabama appeared to be the most at risk.
In an interview with the Mobile Register, one of the study's authors Susan-Marie Steadman stated, "I was not surprised we were losing wetlands along the Gulf.  I was surprised we were losing 60,000 acres per year."
Steadman said it was well documented that Louisiana was losing 20,000 acres of coastal wetlands per year, but no one expected the rest of the Gulf Coast to be losing an additional 40,000 acres annually, the Register reported.
3. Freshwater Land Trust Becomes First Accredited Land Trust in Alabama - Last week, the Freshwater Land Trust, a nonprofit land conservation group in Alabama was awarded accredited status by the Land Trust Accreditation Commission, an independent program of the Land Trust Alliance.  The new status earned by the Freshwater Land Trust make it the first land trust in Alabama to be accredited and one of only 53 nationally.
Founded in 1997, the Freshwater Land Trust works throughout the Greater Birmingham area to acquire and care for lands that enhance water quality and open space.  The organization has preserved more than 5000 acres, including Red Mountain Park in Birmingham, the Turkey Creek Nature Preserve in Pinson, and the homewood Forest Preserve.
To learn more about Alabama's first accredited land trust, visit http://www.freshwaterlandtrust.org
4. Alabama's RC&D 2008 Environmental Accomplishments - One of the most active groups in the state of Alabama on behalf of the environment is the Alabama Association of Resource Conservation and Development Councils.  Their environmental efforts reach and touch nearly every community and region in Alabama.  Here is an example from each region of their 2008 accomplishments from their recently released annual report.
* Used Fishing Line Recycling Initiative -  Alabama's Mountains, Rivers and Valleys RC&D Council http://www.amrvrcd.com
* Monroeville Middle School and Monroe Intermediate School Outdoor Classrooms - Ala-Tom RC&D Council  http://www.ala-tomrcd.org
* Five mile Creek Greenway Partnership - CAWACO RC&D Council http://www.cawaco.org
* Environmental Stewardship Kids - Coosa Valley RC&D  Council 256-835-0774
* Pollard-McCall School-Sarah Finlay Outdoor Science Center - Gulf Coast RC&D Council http://www.gulfcoastrcd.org
* Alabama Energy Revolution Summit 2008 - Mid-South RC&D Council http://www.midsouthrcd.org
* Water Festivals in Lauderdale and Colbert Counties - Northwest RC&D Council  256-383-1446
* Discoveries in Nature - SMART - Fayette County - Tombigbee RC&D http://www.tombigbeercd.org
* Critters and Environments (Barbour) - Wiregrass RC&D Council  http://www.wiregrassrcd.org
5. Birmingham Audubon Awards 48 Mini-Grants to Teachers - For the academic year, 2008-2009, the Birmingham Audubon Society awarded 48 mini-grants to help fund field trips, guest speakers, and special projects relating to conservation and education.  Projects included: A Butterfly and Hummingbird Garden at Mt. Olive Elementary School, a Butterfly Garden at Spring Valley School, and field trips to Ruffner Mountain, the Southern Environmental Center, McWane Center, Birmingham Zoo, and the Birmingham Botanical Gardens.
The financial support for the mini-grant program comes from the Diana Stober Sessions and Paul Trammell Sessions, Jr. Foundation.  All teachers in Jefferson and Shelby counties are eligible for these grants.  Visit http://www.birminghamaudubon.org  and click on "Grants and Scholarships" for details.
6. BEN Notes: Longleaf Alliance Executive Director Position, Grants and Websites, Land Trust of Huntsville "Spring Bursts" Hikes, Mobile Green Living Series, Alabama Hiking Trail Society Conference, ARA Watershed Leadership Conference, EEAA Conference, Southeast Land Trust Alliance Conference, 2009, Outdoor Alabama Expo 2009
Longleaf Alliance Executive Director Position -  The Longleaf Alliance is seeking an executive director. We have posted the entire job description at on the Bama Environmental News website at  http://www.bamanews.com/2009/03/longleaf-alliance-seeking-executive.html
Grants and Websites - From the NOAA Information Exchange for Marine Educators:
NOAA Environmental Literacy Grants for k-12 Education
http://www.oesd.noaa.gov/funding_opps.html
Dauphin Island Sea lab Summer Program for Students and Teachers
http://press.disl.org/1_08_09summer.htm
Climate Change from Pole to Pole: Biology Investigations  - Click here
Human Toll of Climate Change
http://maps.scienceprogress.org/climate/index.php
The Gulf of Mexico at a Glance
http://gulfofmexicoalliance.org/pdfs/gulf_glance_1008.pdf
Land Trust of Huntsville "Spring Bursts" Hikes - Check out the Land Trust of Huntsville and North Alabama's "Spring Burst" Hike Series at: 
http://www.landtrust-hsv.org/events/post/spring-burst-hike-series
Mobile Green Living Series - The Alabama Coastal Foundation (ACF) will be offering homeowners tips on living green during two free workshops on March 3rd and March 31st, 6 pm until 7:45 pm at the Semmes Community Center at 10141 Moffett Road.  The program educational program was developed for the Mobile Area Water and Sewer System.  For more info about these programs, contact ACF at 251-990-6002 or visit http://www.joinacf.org
Alabama Hiking Trail Society Conference - The Alabama Hiking Trail Society will be holding their 7th Annual Conference, March 6th and 7th at the 5 Rivers Delta Resource Center in Spanish Fort, Alabama.  For complete details about this event, visit http://www.hikealabama.org/conference.html .
ARA Watershed Leadership Conference - The Alabama Rivers Alliance will be holding their 11th Annual Watershed Leadership Conference on March 20-22 at beautiful Camp McDowell.  Visit http://www.alabamarivers.org for details.
EEAA Conference - The Environmental Education Association of Alabama will be holding their Annual Conference - titled "Woods and Water: Connections in Nature" from March 19 to March 21 at the Alabama 4-H Center in Columbiana, Alabama.  For information about the event, visit http://www.eeaa.us   or call 256-426-5871.
Southeast Land Trust Alliance Conference - The 2009 Southeast Land Trust Conference is coming to Alabama on March 25-26 at Auburn University's Dixon Conference in Auburn, Alabama.  Check out  the conference schedule and details at http://www.lta.org  (visit "events" on the webpage)
2009, Outdoor Alabama Expo 2009 - The Department of Conservation will be holding the 2009 Outdoor Alabama Expo, May 2nd, 9:00 to 5:00 at Oak Mountain State Park.