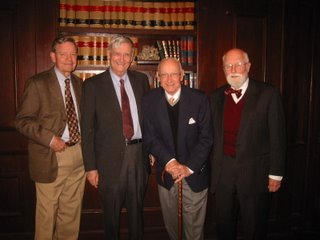 Bill Ireland passed away on Friday. A very special and generous person. I particularly liked this picture I took of him with some true "Alabama Giants" in their fields about three years ago - L to R - Dr. Doug Jones (Geology), E.O. Wilson (Biology), Bill Ireland (Business and Conservation) and Dr. James Pittman (one of the leaders who 
established UAB Medical School). 

One of Bill's greatest achievements was his tireless effort to pass the Forever Wild Constitutional Amendment - a law that has saved over 180,000 acres of land in Alabama. Throughout the years - every time I met with Bill, he smiled widely and shook my hand vigorously as in celebration of that great law. It was like he was saying to me, even more than a decade later - "We did it! We did it!